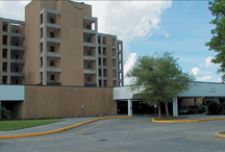 University Medical Center is one of nine members of Louisiana State University Health Systems.
All hospitals today face challenges, but none comes close to matching the recent experiences of Louisiana hospitals.
Louisiana State University (LSU) Health Systems had marked a milestone in upgrading patient information management throughout their nine-hospital system. They had standardized their patient monitoring equipment with Ultraview SL monitors from Spacelabs Medical, and the installation of Spacelabs' Intesys Clinical Suite (ICS) was nearly complete at Charity and University Hospitals in New Orleans. This new platform offered access to patient monitoring data from anywhere in the LSU system, forming a foundation for a fully electronic medical record — that is, until just two weeks later when the calamity called Katrina devastated the area, closing both New Orleans hospitals.
The setback has proved to be temporary however; the other seven hospitals in the LSU system are linked via ICS, making comprehensive patient data available to caregivers whenever and wherever needed. For example, while attending a patient at Earl K. Long Hospital in Baton Rouge a physician can also see the real-time patient waveforms of a patient at Bogalusa Hospital, using any of LSU's networked PCs. Ultimately, he or she will be able to do the same "virtual consult" from the home or off-site office.
"Today, more than ever, having information accessible anytime, anywhere is essential for decision-making, research and documentation for core measures, JCAHO standards and the like," said Michael Butler, M.D., chief medical officer for HCSD Systems. "The monitoring platform that Spacelabs provides facilitates this process."
In the Forefront of New Technology
Although LSU Health Systems has always faced financial challenges — in a state where nearly 20 percent of the population was below the poverty level even before Katrina — it enjoys a reputation for excellence and is well on its way to setting new standards for information management.
LSU had the foresight to use its limited resources wisely to invest in technology that created a platform for growth into the future, enhancing workflow and patient care. One step was the Ultraview SL patient monitoring system equipped with WinDNA that monitors not only physiological data, but also permits point-of-care access to patient records, radiology and reports from other areas of the hospital. With WinDNA, nurses can even do charting at the bedside monitor. Secondly, data and alarms from more than 90 stand-alone devices such as IV pumps and ventilators may also be integrated into the Spacelabs monitors via Spacelabs' unique Flexport interfaces.
LSU also invested in Spacelabs' ICS, a set of time-saving software components that collect, analyze, and display patient monitoring and related data throughout the hospital — and beyond. Its advanced network connectivity automates information flow to a full range of hospital information systems. ICS offers a number of specialized applications.
Some highlights include: Clinical Event Interface for sending event data from patient monitoring devices to pagers and phones; Vital Signs Viewer for viewing real-time waveforms from the office or home;  12-Lead Interface for exporting diagnostic ECG reports generated by the Spacelabs monitor to an ECG management system; Full Disclosure; Electronic Flowsheet; and others.
"Full Disclosure and Electronic Flow Sheet have streamlined our collection of rhythm strips and discreet data from the monitors," said Mary Luce, director, Critical Care, Medical Center of Louisiana, "such that we can easily retrieve data from any computer terminal in the unit, or even elsewhere in the hospital."
LSU hospitals were also among the first in the nation to install new telemetry equipment in the higher frequency range of the Wireless Medical Telemetry Service (WMTS). This reduces the likelihood of radiofrequency interference with medical telemetry systems, which would otherwise compete with mobile radios, digital television and other wireless applications on other frequencies and put patient safety at risk.
The Future is Bright
While it is doubtful that Charity Hospital can be salvaged, portions of University Hospital are geared to reopen this summer for acute and emergency care, and discussions are underway to look at building a new hospital in collaboration with the VA whose hospital in downtown New Orleans also flooded. LSU plans to create a new state-of-the-art hospital, which will be a wireless environment and ultimately feature a paperless information management system.
Katrina caused a detour in LSU's progress, but by no means a derailment. LSU Health Systems has made great gains as a result of standardizing with Spacelabs' monitoring information access and management technology.
"The state of Louisiana and Spacelabs share a vision to create a unified flow of information from any of the monitors of the eight facilities, throughout the system, for both clinical and research purposes," said Martha Smith, statewide director of Nursing/Standardization. "This will significantly cut the labor and cost of research, making us much more productive — a functional syncytium, if you will. Once linked to electronic medical records, this will enable caregivers to spend more productive time with patients and families."
The project is enabling the state to create the structure it has been aiming toward for a number of years, she added.
---
If you enjoy this content, please share it with a colleague