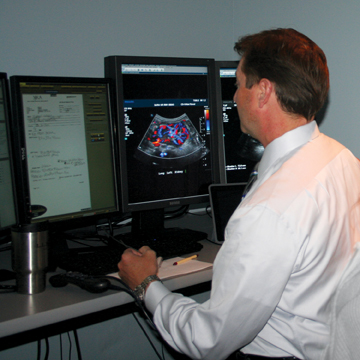 Randall W. Snyder, III, M.D., said patients benefit from his ability to spend more time studying images.
Voice recognition and template-driven radiologist reporting have dramatically streamlined delivery of the clinical report. However, including measurement data in a report still requires radiologist dictation of numbers manually captured by a technologist. Since quantitative measurements are an important and common aspect of the radiologist report, further increases in productivity and clinical quality can be realized by automating this process.  
South Jersey Radiology Associates (SJRA), a large outpatient imaging center practice in Southern New Jersey, is making significant inroads toward this end. First, they worked with their ultrasound vendor to structure image acquisition and automate measurement data capture, resulting in a 15 percent improvement in
sonographer productivity across their 18 ultrasound systems. They then implemented ModLink from PACSGEAR to automate insertion of these newly structured measurements. Using PowerScribe 360|Reporting from Nuance, SJRA radiologists immediately saved 30 seconds per dictated report. This average time savings was realized for all ultrasound exams, regardless of complexity, enabling a radiologist reading 60 ultrasound exams daily to save approximately 30 minutes per day. 
Randall W. Snyder, III, M.D., head of ultrasound at SJRA noted, "Eliminating measurement dictation not only improves radiologist productivity, but also enhances the ability to focus on clinical evaluation and interpretation. The quality of care my patients receive benefits from my ability to spend more time studying the images and enhancing my clinical interpretation." 
Improved handling of measurement data also enhances report consistency, which helps maintain high levels of referring physician satisfaction. This consistency benefits the quality of imaging follow-up by ensuring accurate comparisons can be performed. Due to the high percentage of ultrasound exams with historical comparisons, consistent reporting will become increasingly important as reimbursement is tied to clinical quality. "Standardized imaging follow-up facilitates the reading process and improves the quality of, and my confidence in, the diagnostic comparison I make," said Snyder. 
Today's radiology practices benefit from standardization of all aspects of the report, including layout. Snyder added, "Diagnostically complex exams that include numerous quantitative measurements are our next opportunity to achieve time savings and improve clinical quality. My colleagues and I anticipate having more time to expand the quality and consistency of our reports." 
Case study supplied by PACSGEAR.