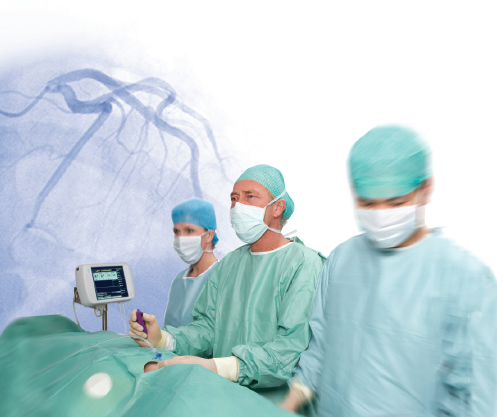 The medical imaging market relies heavily on contrast media, injected into patients to increase the contrast of bodily structures in images and improve diagnostic examinations. In radiographic imaging procedures, iodinated contrast agents can greatly enhance X-rays or computed tomography (CT) images. But many contrast agents carry with them the risk of nephrotoxicity, or renal toxicity, for patients with significant and lingering kidney issues. This risk can lead to the need for renal replacement therapy, or result in rehospitalization and even death. Currently many scientists are searching for ways to develop a more kidney-safe contrast agent for this subgroup of patients. Ligand's Captisol-enabled iohexol is poised to offer a new opportunity for the diagnostic imaging market.
The Risks of Contrast to Certain Patients
Contrast-induced acute kidney injury (CI-AKI) is one of the most important risks associated with the use of contrast media in diagnostic imaging, as well as procedures that rely on contrast, such as percutaneous coronary interventions (PCI).1 While the many definitions of CI-AKI vary, it is generally considered to be an increase of more than 0.5 mg per deciliter in the serum creatinine level following contrast media administration. CI-AKI signals that a severe decline in kidney function may develop within
72 hours after contrast is injected.      
The incidence of CI-AKI varies widely. It is possible for CI-AKI to occur in every patient that has been injected with iodinated contrast, but for those with relatively healthy kidneys the injury may never present as clinical, resulting in no lasting severe consequences. However, patients with a history of chronic kidney disease, diabetic nephropathy and other risk factors face the possibility of more hospitalization, increased healthcare costs, the need for renal replacement therapy or worse, death. While the overall rate of CI-AKI has generally trended downward in recent years, it still remains a significant risk for a subgroup of patients; even routine cardiac procedures using average doses of iodinated contrast can have damaging effects over time.
The Need to Make Contrast Agents Safer for Kidneys
Iodinated contrast agents are highly water-soluble and carbon-based, with the most common types used today either iso-osmolar iodixanol or low-osmolar nonionic monomers (iohexol, iomeprol, iopamidol, iopromide, ioversol, ioxilan). It is thought that the higher the osmolality or the particle concentration in the contrast solution, the greater the vascular symptoms of warmth and pain during injection, as well as CI-AKI.2 There may be stasis of contrast within the kidneys after intravenous procedures are completed, and in patients with CKD and diabetes, there have been reports of nephrograms showing contrast media within the kidneys up to eight days after it was administered.3
The primary strategies of reducing this risk for patients are to select less toxic iodinated contrast agents and to use doses as low as reasonably achievable (ALARA). But in patients with high-risk profiles, there is no absolute safe limit of contrast dosage. In a 2016 study, it was reported there were no adjunctive pharmaceuticals available to have proven effective at preventing or treating CI-AKI.4
The Development of Captisol-enabled Iohexol
The U.S. market for imaging with iodinated contrast agents is estimated at 20 million procedures per year, representing approximately $1.5 billion in annual sales,5 and it is estimated that one-fourth of those who undergo contrast-enhanced imaging are at risk for renal damage.6 With this in mind, a team of scientists at Verrow Pharmaceuticals (acquired by Ligand Pharmaceuticals in January 2018) has studied the effects of reformulating iohexol (the most widely used iodinated contrast agent) with Ligand's patented Captisol-modified cyclodextrin (sulfobutylether-β-cyclodextrin, or SBECD), which is used to solubilize insoluble drugs for IV injections and improves stability, bioavailability and dosing of active pharmaceutical ingredients.
Verrow's preclinical studies demonstrated that when SBECD is added to iohexol that has been administered to rodents, significant reductions occur in tubular dilation, vacuolization and loss of brush border. Serum creatinine levels in the mice group were observed to increase after contrast administration and then mitigated by the addition of SBECD, and while rats did not show the same increase in serum creatinine, they showed a significant functional benefit of SBECD. The combined solution showed reduced kidney injury to rodents from contrast doses similar to those used in clinical human settings. The addition of SBECD also showed no adverse effects, instead acting protectively and blocking damage to the kidney.
Further development of this new formulation, or Captisol-enabled iohexol, is now underway at Ligand Pharmaceuticals. The goal is to leverage Captisol technology with iohexol (trademarked as Omnipaque by GE Healthcare) to create "kidney-safe" contrast agents for use in diagnostic imaging as well as for interventional procedures, and any other uses of iodinated contrast agents. With a large potential market and lack of viable alternative options for reducing the risk for CI-AKI, the Captisol-enabled iohexol program is anticipated to potentially establish a new safety standard in the clinical use of iodinated contrast agents.
References
1. https://www.ncbi.nlm.nih.gov/pmc/articles/PMC5424439/. Accessed Sept. 24, 2018.
2. McCullough P.A., Capasso P. Patient discomfort associated with the use of intra-arterial iodinated contrast media: a meta-analysis of comparative randomized controlled trials. BMC Med Imaging 2011;11:12
3. Mehran R., Aymong E.D., Nikolsky E., et al. A simple risk score for prediction of contrast-induced nephropathy after percutaneous coronary intervention; development and initial validation. J Am Coll Cardiol 2004;44:1393-9
4. McCullough P.A., et al. Contrast-Induced Acute Kidney Injury. J Am Coll Cardiol 2016;68(13):1465-73
5. The Global Imaging Agents Market (Report MCP-3336) Global Industry Analysts, Inc., September 2016
6. Rowe E.S., et al. Preclinical Studies of a Kidney-Safe Iodinated Contrast Agent. Journal of Neuroimaging 2016; 26(5):511-8