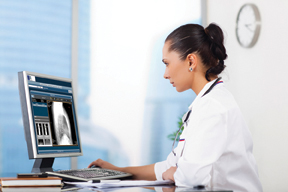 Advances in PACS have enabled organizations to improve patient care and streamline operations.
Picture archiving and communication systems (PACS) solutions have revolutionized the way radiologists and referring physicians review, interpret, share and interact with diagnostic imaging studies. Advances in PACS have enabled organizations to improve patient care and streamline operations. The integration of health information systems/radiology information systems (HIS/RIS) and PACS solutions has bridged gaps to improve efficiency. Many entities have realized value by adding RIS-driven workflow and by extending RIS/PACS platforms to include integrated billing, document management and business analytics functionality.
Today, perhaps more so than ever due to declining reimbursements and government incentive programs, business, IT and clinical professionals are asking, "Do I have the right PACS? Am I optimizing the value of both my PACS and RIS, especially in the context of broader health information exchange?"
Consider the following from authors Chen, Bradshaw and Nagy in the April 2010 issue of the Journal of Digital Imaging:
"The picture archiving and communication system (PACS) market has been transformed by disruptive innovations from the information technology industry. The cost of storage alone has dropped by a factor of 100 within the past 10 years. Improvements in display, processing and networking have likewise enabled PACS to be a capable replacement for film. The maturity of PACS has permeated the U.S. healthcare industry from large academic hospitals to small outpatient imaging centers. Can PACS continue to be a platform for innovation or has it become a commodity?"
Bradshaw says this in his section titled, "The PACS is not a commodity:"
"Looking back, the PACS market has indeed matured and competing features have changed, but not to the point where competition is on price alone. In fact, considering the potential for innovation in the PACS market, we may have more future competition than we had in the past. The radiologists will always need a PACS as their primary tool. As a result, all roads of innovation in radiology lead through the PACS."
PACS: A Commodity or Not?
So is PACS a commodity? The verdict is still out and the pendulum may continue to swing. Perhaps the more compelling question should center not on the PACS or RIS itself, but instead on the value an organization can realize by optimizing interoperability between its imaging information systems and the broader health information community. This will be especially important as organizations strive to comply with meaningful use and plan for the creation of accountable care organizations (ACO).
One of today's most pressing health information technology issues involves the timely, cost-effective storage and sharing of diagnostic images. Payers are beginning to lower reimbursements for duplicate tests; physicians with newly acquired EHRs want to see images in the context of the EHR, and patients are concerned about unnecessary exposure to additional radiation. Clearly, there is a growing mandate to share existing images. But the reality of image exchange is much different:
• Patients are used as the transport system for images, often being asked to carry images (on CD or even film) to medical encounters.
• If a CD arrives at a facility, clinicians may not be able to read it. (Johns Hopkins researchers found that outside digital media could not be read or imported in nearly 40 percent of situations). Additional tests are often ordered.
• Diagnostic images continue to exist in proprietary formats within siloed archives. Additional tests are often ordered.
• Today's duplicate test rates approach 50 percent.
• While a child can easily download and watch a movie (the same data file size as a cardiac cath study) on a gaming system, a doctor working in a hospital can't view an image that was created at the diagnostic imaging center across the street.
Most of today's EHRs provide access to transcribed radiology reports. But without the accompanying image, the patient record is not truly meaningful.
Today, 60 percent of patient diagnoses are supported by diagnostic imaging. Access to diagnostic information at the point of patient care is important for detecting and monitoring the progression of disease while enabling faster treatment and reducing duplicate exams. Yet much of that potential value remains locked within PACS archives.
Healthcare should draw a parallel to banking's use of ATMs. The industry should leverage federated data models and the Internet to create exchanges that allow EHRs, personal health records (PHRs) and health information exchanges (HIEs) to access imaging data from any location without moving and redundantly storing the image. Patients, providers and payers should be empowered to manage the healthcare experience from computers, mobile devices and new public access, such as kiosks.
Cost-conscious organizations should leverage current investments by using existing PACS systems and applications to build incrementally toward a fully interoperable image exchange. Organizations should adopt the newest in web-based technologies and leverage interoperability standards, such as HL7, DICOM, Web services and XDS. And organizations should leverage the work done years ago by the Integrating the Healthcare Enterprise (IHE.) The IHE's comprehensive set of DICOM use cases can serve as a "playbook" for implementing an image exchange strategy.
Although the technology exists, it will be business imperatives that will guide the evolution of image exchange.
Michael Warthen is responsible for corporate strategy at Merge Healthcare. He is a past faculty member of the Health Information Management Systems Society (HIMSS) and Toward an Electronic Patient Record (TEPR). He founded MedAssure, which provided portable PHRs via smart card technology. Most recently, he was responsible for the healthcare information exchange practice at Initiate Systems.
SIDEBAR: UMass Deploys Image Exchange Product
Attendees at recent Radiology Society of North America and Health Information Management Systems Society events saw many new technologies address the emerging business requirements described in the accompanying article. Merge Healthcare showcased the new Merge iConnect platform, a portfolio of solutions dedicated to image exchange. Based upon IHE standards, iConnect is a vendor-neutral approach that can deliver image interoperability solutions for any existing PACS environment and provides real-time access to any image, anytime, anywhere.
With iConnect integrated into systems such as electronic health records (EHRs), clinicians have a complete view of the patient, including views of current and historical images, reports, demographics and more.
UMass Memorial Health Care recently deployed Merge's iConnect image interoperability solution.
"Now, every physician has the ability to view images wherever needed, right within our Allscripts EHR," says William Corbett, M.D., UMass' vice president of community practices in a recent press release. "This provides our clinicians significant benefit over just having access to the written report, while also enhancing interactions with our patients."
Physicians no longer need to open and log into a separate application to view images. UMass has seen a major uptick in physician EHR use since deploying this solution, with more than 95 percent of nearly 700 employed doctors now using the EHR.
UMass leaders first saw Merge's image viewing solution at last year's Innovation Day, where a number of products for use with their Allscripts EHR were on display. According to Corbett, nearly 100 physicians attended the event and, "the greatest buzz" was about this image access product.
— Michael Warthen