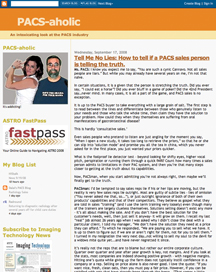 Either by default or pure interest, many radiologists may at some point in their careers find themselves addicted to PACS. It's not your fault - you can't avoid it. It's with you throughout the entire workday, you run into it at trade shows and some of you might even seek it out in your free time. Let's face it, PACS is addicting.
That is why I got together with a notorious PACS junky and industry guru known as the PACSman, aka, Mike Cannavo. Together we launched the PACS-aholic blog to give you "an intoxicating look at the PACS industry." In the first month of the PACS-aholic blog, we have not only relayed sobering dialogue on the inner workings of the PACS underworld but we have enjoyed feedback from several radiologists and vendors alike, commenting on topics including: "Tell Me No Lies: How to tell if a PACS sales person is telling the truth," "Does PACS Need to Be Regulated?" and "Do You Really Need Service?" Others have commented on the tongue and cheek banter between the PACSman and Ms. PACS - reminiscent of the original SNL's "Weekend Update."
In particular, the Dalai of PACS himself, Sam Friedman, M.D., a radiologist and renegade blogger who set out on his own to launch a vendor-neutral forum with DALAI's PACS Blog - which you can bookmark at www.doctordalai.blogspot.com - has placed our blog under the spotlight a couple of glorious times. If you haven't done so, now it is your turn to publish your comments on our weekly updates - just go to PACS-aholic.blogspot.com.
ITN will also launch the RSNA FastPass this month! The RSNA FastPass is your online guide to new product launches taking place on the RSNA trade show floor. The micro-site is complete with vendor booth information and product previews designed to make your RSNA experience fast and efficient.
You can start mapping out your plan of attack for this year's RSNA by going to new.reillycomm.com/rsna2008 or go to ITNonline.net and click on the RSNA FastPass link.
The RSNA FastPass is the fastest way to find out about what you want to know before going to the show.