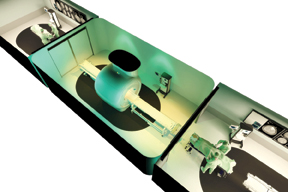 Philips showed a next-generation solution for intra-operative neurosurgery that uses a shielded room with doors opening into two ORs on either side.
The Radiological Society of North America (RSNA) annual meeting has transitioned in recent years from an imaging device focus to an imaging information technology focus. The interest in software continued at this year's meeting, partly fueled by the need for healthcare organizations to meet Stage 1 and 2 meaningful use requirements. Two key trends seen throughout the show floor included remote viewing systems for radiology images and technology streamlined to aid workflow efficiency.
(For more current information on new technology and trends from RSNA 2017, look at the following content:
   • Value in Radiology Takes on Added Depth at RSNA 2017
   • VIDEO: Editor's Choice of the Most Innovative New Imaging Technology at RSNA 2017
   • VIDEO: Key Imaging Technology Trends at RSNA 2017)
There was a proliferation of remote viewing systems to call up images on a Web browser or with the ability to easily forward images from a picture archiving and communication system (PACS) to referring physicians. This is a key radiology requirement in Stage 2 meaningful use to make imaging more accessible across healthcare. Currently, images are generally not accessible unless a physician has access to the hospital or imaging center's PACS. If not, a CD is burned and sent by courier or mail, which does not always open and takes a long time to download data sets. If images are not accessible or CDs do not open, repeat imaging exams are often performed, driving up cost and exposing the patient to additional radiation.
The newer remote viewing systems allow access via e-mail or the Internet to images and reports through modules for a PACS, third-party standalone systems or linked to the facility's archive/storage system. Most are cloud- or Web-based systems so they can easily be accessed outside of a hospital's computer system. All offer data encryption and password protection to meet HIPAA requirements.
Some vendors also promoted the ease of use of these systems for patients to access their images and reports. Instead of carrying a CD to their physician, the patient can simply give their access code to their doctor, who can then access the data. Some vendors are appealing to tech-savvy patients with slick iPad and iPhone apps.
Another trend across the show floor was workflow efficiency. With imaging reimbursements decreasing and imaging departments being asked to do more with less with the current state of the economy and direction of healthcare reform, vendors have responded with increased automation and more ergonomic designs. Imaging and software systems are becoming more intuitive to help speed exam times and workflow. Examples include new advanced visualization tools that auto segment and quantify anatomical structures or function, cutting hours of staff time. New PACS and radiology information system (RIS) improvements are greatly reducing the number of clicks required to enter report information or to hang images. Simplified, automated protocols on the imaging systems themselves are also helping technologists perform exams more quickly and efficiently, especially on computed tomography (CT) and magnetic resonance imaging (MRI) systems.
See many of the items listed below in the VIDEO "ITN Editor's Choice of Most Innovative Radiology Technology at RSNA 2012." 
 
Mammography Advancements
Two key technology advancements on the show floor included breast ultrasound and breast density software. There were also several new studies regarding mammography presented at RSNA 2012.
GE Healthcare highlighted the somo•v automated breast ultrasound system, which it recently acquired with its purchase of U-Systems. It is the first U.S. Food and Drug Administration (FDA)-cleared automated ultrasound system for screening women with dense breast tissue. Used in combination with mammography, the system is clinically proven to increase cancer detection rate in women with dense breast tissue by 30 percent. It reduces the inter-operator variability inherent in hand-held ultrasound systems. Several other vendors displayed products for other versions of automated breast ultrasound.
Legislation in several states now mandates that physicians alert patients who have dense breast tissue so they can better understand their chances of misdiagnosis and of the possible need for other exams, such as positron emission tomography (PET), MRI or ultrasound. Vendors showed several versions of software to help clinicians meet the new requirement. New software is being developed to offer a consistent measure of density that is not biased by the personal interpretation of various users.
Matakina International released a new version of its Volpara imaging software, which expands the number of digital mammography systems on which its breast density reporting software can be used. While some mammography systems offer breast density percentages, they vary on how it is calculated by vendor and machine. The Volpara system can be added to most vendors' systems, including Fuji, Philips, IMS Giotto and Medi-Future, in addition to processing mammography studies acquired on GE, Hologic and Siemens digital mammography systems. The system analyzes each pixel and uses areas of 100 percent fatty tissue as a baseline to build a density map. It generates an automated, objective report with the percentage of fibroglandular breast tissue volume and breast density. It uses standard Breast Imaging-Reporting and Data System (BI-RADS) classifications of density.
Philips Healthcare showed a work-in-progress software for its MicroDose SI mammography system. It uses single-shot spectral imaging (SI) to measure density without exposing women to additional examinations or X-ray radiation. The technology works by taking two images of the mammography exam and counting photons to measure density.
Controversial guidelines issued by the U.S. Preventive Services Task Force (USPSTF) in 2009 recommending that routine screening with mammography be done every two years for women 50 to 74 years old, contrary to the traditional recommendation for screening to begin for all women over the age of 40, appear to be leading to missed cancers and a decline in screening, according to two studies presented at RSNA 2012.
For one study, researchers analyzed the impact of these guidelines on women between the ages of 40 and 49. They found that almost 20 percent of cancers detected with screening mammography were among women in their 40s. "It seems unacceptable to potentially miss nearly 20 percent of the breast cancers we are identifying," said study co-author Elizabeth Arleo, M.D., assistant professor of radiology at New York Presbyterian Hospital, Weill Cornell Medical College. "Our data favors the American Cancer Society recommendations of annual mammograms starting at age 40," she added.
The second study presented, lead by David C. Levin, M.D., professor and chairman emeritus of the Department of Radiology at Thomas Jefferson University Hospital in Philadelphia, analyzed Medicare data for 2005–2010. From 2005 to 2009, the compound annual growth rate for screening mammography utilization was 0.9 percent, compared to a 4.3 percent decline from 2009 to 2010. Levin called the drop in utilization rate concerning.
Other Trends
• Further advancements are being made with flat panel monitors using new LED technology. Today's displays last longer, offer much higher resolutions and better self-calibration. Calibration systems are also available to QA test monitors remotely using built-in sensors, rather than walking the hospital and hand-testing each monitor manually.
• More cost-effective radiology solutions were emphasized by vendors. Starting at last year's RSNA, the big vendors began de-emphasizing their high-end systems in favor of those that more realistically reflect the current economic reality. Several key imaging vendors showed how lower-volume hospitals can use one wireless digital radiography (DR) detector for multiple machines, eliminating the need for several at a cost of about $100,000 each.
• Radiation dose monitoring solutions were highlighted this year as several states began implementing requirements for radiology departments to record dose.
New Technology
Wireless Transducer — Siemens introduced the world's first wireless transducer ultrasound system, the Acuson Freestyle. It eliminates the impediment of cables in ultrasound imaging. The Freestyle is a point-of-care system that will expand ultrasound's use in interventional and therapeutic applications. The transducer can be used to image up to 10 feet from the console. Siemens said it hopes to refine and expand the wireless transducer technology to its other systems in the coming years.
Noiseless MRI — GE Healthcare introduced the 510(k)-pending noiseless MRI Silent Scan technology it hopes to introduce in 2013 for its MR450W system. The technology addressed a significant impediment to patient comfort — noise generated during the exam that can be in excess of 110 decibels. A combination of software and a pulse sequence lowers the noise level to that of a chirping bird outside a window.
640-Slice CT Scanner — Toshiba unveiled its 640-slice Aquilion One Vision edition CT scanner. It is equipped with a gantry rotation of 0.275 seconds, a 100 kw generator and 320 detector rows (640 unique slices) covering 16 cm in a single rotation, with the industry's thinnest slices at 500 microns (0.5 mm). The system can accommodate larger patients with its 78 cm bore, and its fast rotation captures high heart rates.
Peri-Operative MRI — Philips showed a next-generation Ingenia MR-OR solution for intra-operative neurosurgery. It uses a shielded room with doors opening into two ORs on either side. A track system allows an MRI-safe surgical table to be moved so the patient can be imaged and then taken back into the OR. Philips is also attempting to take an early lead in interventional MRI. 
OLED Displays — OLED offers smaller components and quicker response time than LCD, and the ability to display fast motion with virtually no blur. Sony showed the new PVM-2551MD OLED medical-grade monitor, which achieves pure black, faithful-to-the-source signal. By providing superb color reproduction, especially for dark images, surgeons can observe very subtle details such as the faint color difference between various tissues. 
Watch the VIDEO "ITN Editor's Choice of Most Innovative Radiology Technology at RSNA 2012."