Across the southern California facilities where Kaiser Permanente implemented a radiology reporting system, it saw report turn-around time drop from days to hours.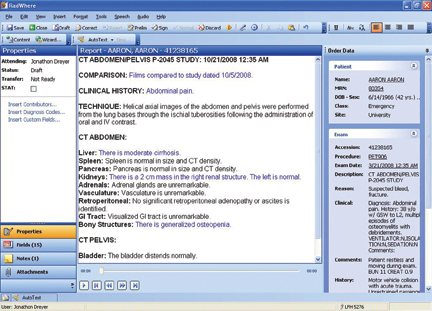 Across the southern California facilities where Kaiser Permanente implemented a radiology reporting system, it saw report turn-around time drop from days to hours.
When it comes to using any application, most end-users want to know what the "best practices" are; however, many find these practices challenging to implement. Best practices usually introduce change, and as we all know and have likely experienced, change can be difficult and stressful. Still, how we approach change — and make it palatable — can mitigate the pain and help with forward progression.
From my observations, one of the most challenging "best practices" is standardization. In radiology, standardization can be seen in modification to dictation and/or reporting style. As with all individuals, radiologists are accustomed to communicating in a certain way, and this is evidenced in how they dictate. Techniques for dictation are often learned from observing the habits of other clinical users.  
When a templated speech recognition system is introduced (such as one that was introduced to me, RadWhere from Nuance Healthcare), standardization should accompany it. While the introduction of standardized templates can take some adjustments because change can be difficult, it is a critical factor to overall documentation success within these systems. We have found "champion radiologists" oftentimes assist in making a department-wide transition to a speech recognition system easier.  
Focusing on the Facts
What is always important to remember is that referring providers simply want to know how to treat the patient. They want to know if the study is negative or if there are positive findings, so a clinical correlation can be done. As one referring provider once told me early in my career, when I was a radiologic technologist, he could not care less about the "editorial" portion of a report unless, however, there are positive findings.
With standardized templates, which can be built for each procedure type, radiologists have the opportunity to agree upon common verbiage. So, for example, if the exam is negative, they can easily sign the report and move on.  If there are positive findings, they can easily modify the report and provide the referring physician with the information they need.
As an example, let's take the much contested "normal chest" verbiage. Let's face it, a normal chest is a normal chest, but any changes or anecdotal findings change that. So if a chest X-ray is performed and it is totally normal, what is wrong with using the following verbiage for the findings and impression?:
"Findings: Two views of the chest show normal heart and mediastinum. Lungs are clear. No infiltrates or effusions noted. Soft tissue and bony structures are unremarkable.
Impression: No significant abnormalities."
If there are positive findings, this "normal" can be easily modified. We have found standardized, speech-enabled documentation templates to be quite flexible in this arena. They can make life easier not only for the radiologist, but for the referring provider as well.
An additional benefit is the marked decrease in report turn-around time. Across the six southern California facilities where our organization has implemented a radiology reporting system, we have documented a decrease in report turn-around time that has gone from days to hours. Both the emergency room (ER) and hospital clinicians have been "wowed" by the increase in efficiency. No longer does a radiologist have to "touch" a report twice (once for dictation, then again for signing after the report is transcribed).
We recently implemented a site that also has residents, who have commented that the system has made them more efficient as well. Instead of reading, taking notes and then sitting down with the attending to review, now it can all be done in one session.
Improved Workflow and Efficiencies
Our organization chose to use a speech-driven radiology reporting workflow versus a picture archiving and communication systems (PACS)-driven workflow. We have found that the system we ultimately chose to work with is more flexible and easier to navigate, as compared to the PACS. Additionally, a PACS-driven workflow has inherently more challenges. The speech-driven workflow can be limited to those exams that have been completed by the technologist.
From the system administration side, we are proponents of simplicity. While not always achievable, we do provide food for thought to the department chief of service. Several have revamped the workflow for their radiologists, since an essentially paperless system can now be taken advantage of. If your PACS system has the capability, you can now read any exam, any time, from (almost) anywhere.
Each worklist can be as simple or complex as needed, through Boolean expressions. While there are some limitations, most needs can be met. As a sidebar, our vendor has been very open to enhancement suggestions, to make the lives of the system administrators (and, subsequently, the radiologists) easier.
We have some very simple, all-encompassing worklists (e.g., CT – outpatient) to highly tailored, complex worklists for the radiologists who perform specialized work in areas of magnetic resonance imaging (MRI) and interventional radiology. Some departments have chosen to "assign" cases to radiologists. The thought process behind that was a more equitable distribution of work. However, we have found that assigning work, while good in theory, actually is more inefficient in practice. We have found that by having the radiologists use the speech-driven worklists, they are more efficient and can keep track of the cases that need to be read.
In our experience, a speech-driven radiology reporting system can provide benefits to the radiologists, the referring providers and, ultimately, the patient, who is truly at the center of our focus. When combined with best practice methods, it is another useful high-tech tool in the radiologists' arsenal to provide better patient care and service to the referring providers.

Alan Rubenstein is a business consultant in the IT division of Kaiser Permanente. Over the past 40 years, he held various positions in the healthcare industry. Over the past two years, a main focus of his job has been the deployment and implementation of the RadWhere system from Nuance Healthcare.